Planning & Analysis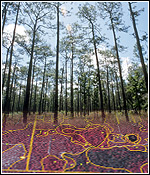 The Florida Natural Areas Inventory conducts a variety of conservation planning and analysis projects to inform state and local planning efforts. We have expertise in land management, environmental planning, and GIS modeling and analysis.
Florida Forever
We play an integral role in assessing projects and setting acquisition priorities for the state's environmental land acquisition program.
CLIP - the Critical Lands and Waters Identification Project
CLIP is a GIS database of statewide conservation priorities for a broad range of natural resources, including biodiversity, landscape function, surface water, groundwater, and marine resources. View the CLIP Phase I Report (5mb pdf file).
ARROW
ARROW stands for Apalachicola Region Resources On the Web. This collaborative project between FNAI and NOAA focuses on the 7-county region along the Apalachicola River in northwest Florida.
Cooperative Land Cover Map
FNAI and its partners are working to develop a single statewide land cover map based on best available data that has broad support and can be used by a diverse group of planners and managers.