Atlas of Florida's Natural Heritage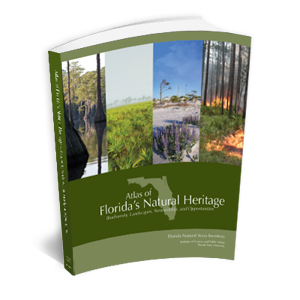 We are proud to have received recognition in two international competitions focused on design. The Atlas of Florida's Natural Heritage has received top honors in the 2011 Cartography and Geographic Information Society (CaGIS) Annual Map Design Competition with Best of Show, as well as the The Independent Book Publishers Association (IBPA) Benjamin Franklin Awards — Best of Category for Nature & Environment.
Audience
The Biodiversity Atlas was envisioned as a resource that would appeal to a wide-ranging audience. Through its use of colorful maps, graphics, and photography, Florida's Natural Heritage and appeal is dramatically highlighted. It is intended to appeal to a wide audience. Hopefully, it will increase awareness of the resources we take for granted, and the challenges we face in preserving them. It is for those who are informed, interested, and/or influential in environmental issues, but may lack specific information and expertise. These may include planners, policymakers, and environmental/conservation advocates from the local to state level. It is also for environmental/conservation/natural resource managers. While the atlas may not provide "new information" to this audience, it will serve as a useful reference that brings many of the elements of biodiversity together in one publication. The final audience are the citizens of Florida and those who may visit our state. We want the atlas to inspire, educate, and raise awareness of and the interest in biodiversity and conservation issues. Florida's biodiversity is not only important to maintain our quality of life, but it is a primary reason why so many people visit our state.
Features Include:
176 pages, 10" x 12" format, paperback and hardback editions
Visually striking presentation with hundreds of maps, photos, illustrations, and other information-rich graphics
Wide-ranging overview of natural communities and over 400 species of plants, and animals
Coverage of timely conservation and land management issues
Available in both beautiful matte soft cover and glossy hard cover editions.
Soft cover -- $35
ISBN 978-0-9606708-6-4

Hard cover -- $50
ISBN 978-0-9606708-5-7

The Biodiversity Atlas may be ordered by contacting us at (850) 224-8207.