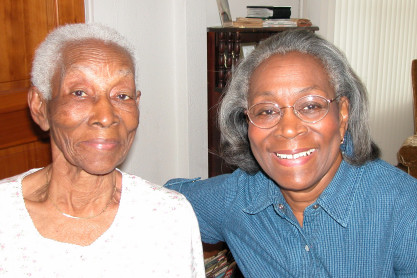 Sarah Baker Speights and Sarah Speights Pender, February 9, 2005
Sarah Baker Speights was born January 1918 in Bay County, Florida. Her daughter Sarah Speights Pender was born in Marianna, Jackson County, December 1939. Sarah Speights is the granddaughter and Sarah Pender is the great granddaughter of Anderson Baker, a former slave. Through their work with Roy Roulhac on Jackson County, Florida, a volume in the Black American Series (copyright 2000 by Gilmore Academy-Jackson County Training School Alumni Association, Inc.), Mrs. Speights and Mrs. Pender learned more about their grandfather and in fact saw his photograph and a photograph of his house for the first time.
Anderson Baker with his teacher LeRoy Bell, June 24, 1935. Anderson Baker had a lifelong interest in learning.
Anderson Baker was born a slave in North Carolina around 1836. Mrs. Speights recalls her grandfather talking about his family—his parents, five sisters, and two brothers. "He could well remember when his parents were sold as slaves" and when his sisters were sold to one slave master and his brothers to another. He became the property of LG Baker of Jackson County. Although he lived to 104, Anderson Baker never saw his biological parents, sisters, or brothers again. Over the years Anderson Baker shared many of his recollections of slavery with his granddaughter Sarah Baker Speights. He told her how one of the children of his slave master taught him how to read, but that he must never let anyone know or they would cut off his index finger. He also recounted how the slaves would worship in Marianna's Florida Caverns, posting young boys outside as sentries and using the limestone formations as natural pulpits.

Listen to Sarah Baker Speight's description of worshipping in the caverns:
Real Network
Windows Media Player
Click here to read the text of the audio about worshipping in the caverns.
In 1878, Anderson Baker homesteaded 80 acres adjacent to the Blue Hole Spring. Part of his land is now part of Florida Caverns State Park. Mrs. Speights reminisced that her granddaddy talked about the house "like it was a three-story mansion and the kitchen wasn't even added on to the house. It was back in the back yard." According to Mrs. Speights, all the people in the community helped each other build their houses, cutting the shingles for the roof by hand.

The shaded yellow area marks Anderson Baker's homestead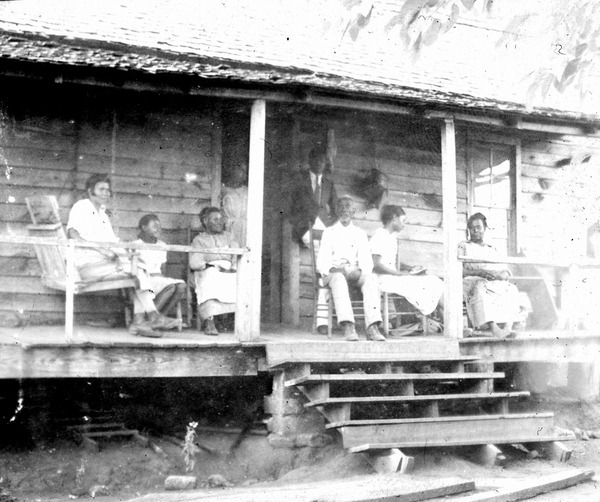 Anderson Baker at home with his family and his teacher LeRoy Bell, 1935
Mrs. Speights recalls how Anderson Baker and his neighbors would use the Blue Hole as a giant natural refrigerator to preserve meat and to keep it cold. According to both Mrs. Speights and Mrs. Pender, the Blue Hole doesn't look a thing like it did before it was incorporated into the park.

Listen to Sarah Speights Pender's description of changes in Blue Hole:
Real Network
Windows Media Player
Click here to read the text of the audio about Blue Hole.
Mrs. Pender's father farmed her grandfather's land until after his death, at which time her grandfather's sisters sold the land.

A number of other black families owned land in the vicinity of the Blue Hole and the nearby Sugar Mill. Mrs. Pender and Mrs. Speights remember good times picnicking and fishing there on Emancipation Day (May 20) and on the Fourth of July. Mrs. Speights recalled, "they'd leave the Sugar Mill and go up to a little place they called the Catfish Hole. Some of the crew would go up there and catch fish and come back, skin those catfish, put on the pots and pans, and men would do the cooking most times."

Mrs. Speights loved to fish and when asked "where are good places to catch fish?" replied "any place you find water is a good place to fish." She fished in Panama City and in Freeport and along the banks of the Apalchicola, Lake Talquin, and on the Ochlockonee River. She had her own boat and motor, a mother's day gift from her children. When she fished on Merritts Mill Pond "before it filled with weeds," she caught bream and shell crackers. She raised her own bait in the backyard. Although Mrs. Speights loved to fish, she didn't care about eating the fish.

Listen to Sarah Baker Speights description of part of the reason she loves to fish:
Real Network
Windows Media Player
Click here to read the text of the audio about Sarah B. Speights loving to fish.
Mrs. Pender was born in Burton Quarters, one of the oldest communities for blacks in Marianna. Although the houses were not insulated and lacked indoor toilets, Mrs. Pender recalls loving to live there and hated it when the family moved to a larger house on Cedar Street. The houses in Burton Quarters have been demolished and new houses built. The area is now known as Chipola Village.

| | |
| --- | --- |
| The birthplace of Sarah Speights Pender, Burton Quarters | Sarah Speights and her daughter Sarah, Burton Quarters |
On the third Sunday in August following weeks of revivals, Mt. Tabor, New Hope and Poplar Springs Baptist churches held joint baptism at Blue Springs. Both Mrs. Pender and Mrs. Speights recall the baptisms at Blue Springs as the big annual homecoming for Jackson County blacks with people coming from as far away as California. Mrs. Speights's mother Julia Britt Baker lived in DeFuniak Springs but never missed the baptisms at Blue Springs, arriving each year with shoeboxes full of her famous homemade peach and apple tarts.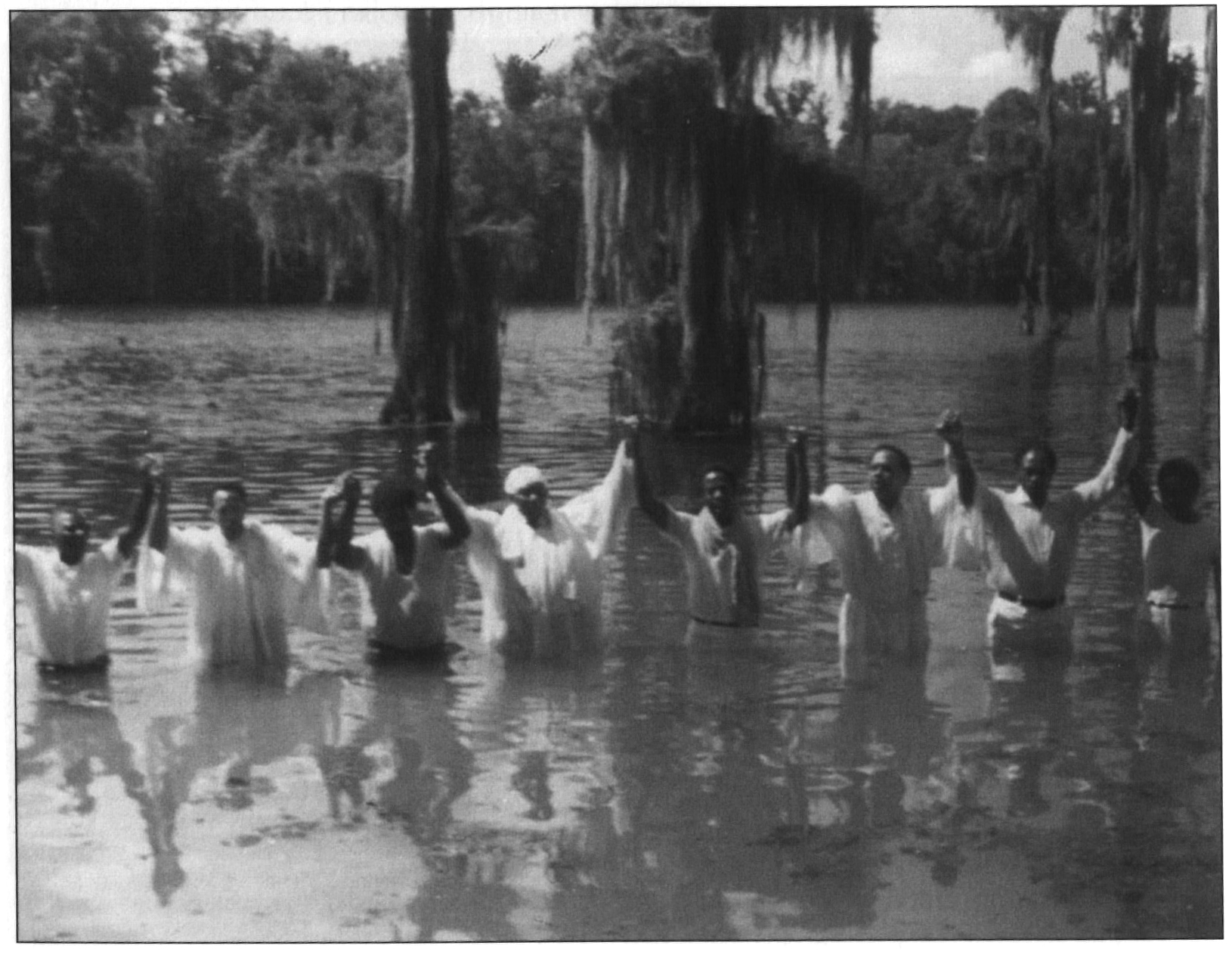 Group Baptism at Blue Springs
Mrs. Speights belonged to Bethel Star Missionary Baptist Church. Mrs. Pender belongs to St. Luke Baptist Church. The church was organized in 1867 and a building erected in 1921 on East Jackson Street in Marianna. Revered K.D. Britt, founder of the Baptist Academy and brother of Mrs. Speights's mother Julia Britt Baker, served as pastor of the church for 17 years. Members of this church were baptized the first week in August in the Chipola River, a short distance from Highway 90 East. In 1984, a new church was constructed on Orange St. in the West End on the original site of the Gilmore Academy.

Mrs. Pender, now a retired nurse practitioner, still lives in Marianna not far from the house on Cedar Street. Mrs. Seights died December 20, 2005, in the Mayo Clinic/St. Luke's Hospital in Jacksonville, Florida.
profile by Elizabeth D. Purdum
back to top