About Us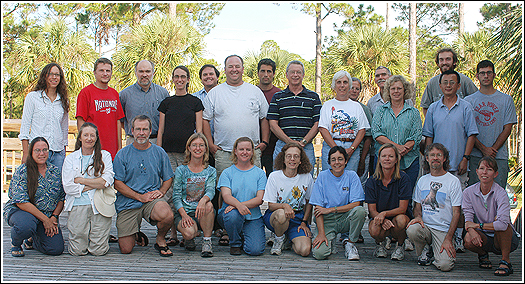 The Florida Natural Areas Inventory is housed within the Florida Resources and Environmental Analysis Center at Florida State University. We are dedicated to gathering, interpreting, and disseminating information critical to the conservation of Florida's biological diversity. The Inventory was founded in 1981 as a member of The Nature Conservancy's international network of natural heritage programs. Funding is provided through contracts and grants, which currently include work for the Florida Department of Environmental Protection, the Florida Fish and Wildlife Conservation Commission, and other state and federal agencies.
Inventory staff continually build and maintain a comprehensive database of the biological resources of Florida, which now includes more than 32,000 element occurrences of rare plants, rare animals, and high-quality natural communities. These occurrences are maintained in a GIS (Geographic Information Systems) database for mapping and analysis.
The Inventory also serves as the primary source for information on Florida's conservation lands. The Inventory database includes GIS boundaries and statistics for more than 2,000 federal, state, local, and private managed areas. The database also includes information on Florida Forever environmental land acquisition projects.
Inventory staff have expertise in a range of fields, including botany, zoology, ecology, land management, environmental planning, GIS, and database management.


Our Services and Products
Services Offered
Natural Resource Inventory

Natural community mapping
Historical vegetation mapping

Ecospatial Analysis

Natural community (ecological) interpretation
Potential habitat and predictive range modeling (341 species)

Conservation Planning

Land management review and planning

Ecological Monitoring

Inventory and monitoring--adaptive management
Rare species occurrence and population trends
Invasive species occurrence and population trends
Data Products
FNAI produces many spatial datasets, some of which are available for download at our
GIS Data Page
. Other datasets, such as element occurrence shapefiles, are available for a fee. See our
Data Requests Page
or contact FNAI for more information.
Why do we charge for some of our services and products?
Although the Inventory is administered by a state institution, we are funded solely through contracts and grants to perform specific environmental research and analysis services. While some of our contracts include funding to provide limited services to the public, we are unable to meet the demand from all of our potential clients through contracts and grants. We therefore charge for many of our products and services in order to cover the costs of providing those services. We appreciate your understanding and cooperation.